This Saturday I had the morning off, instead of my normal teaching duties, so I decided to make an early trip to the Durham Farmers' Market to procure some breakfast…
In the main shopping area (The Pavilion) there are the typical vegetables, fruits, cheeses and meats one would expect from a Farmers' Market, as well as a few stalls selling baked goods, honey, soaps, and handicrafts. Several of the stands also sell coffee from carafes, to sip on while you shop — I saw one that offered dried, thick strands of spaghetti for stirrers. Pretty fantastic biodegradable solution, if you ask me 🙂
On Hunt Street (right by the main market area, which I've also seen referenced as the "art and truck market") is where most of the food trucks congregate. This week we saw:
Monuts Donuts
BikeCOFFEE
Crossroads Kettle Corn
Cafe Prost
Porchetta
Plus, as we were leaving (9ish) there were a few more trucks who were just getting started. I assume they would be up and ready for business by 10am. I couldn't read the name on one of them but it did have "chicken and waffles" as well as "milkshakes" emblazoned on the side…
Also note that most of the trucks sell beverages as well — most had coffee, and Monuts had hot chocolate this week (selection changes).
This whole trip was a thinly disguised plot to inhale more Monuts, tipped off by the gorgeous and awe-inspiring Instagram photo posted by the Monuts team below. So the alarm was set, a strong thermos of coffee was brewed, and we set out on our quest for breakfast.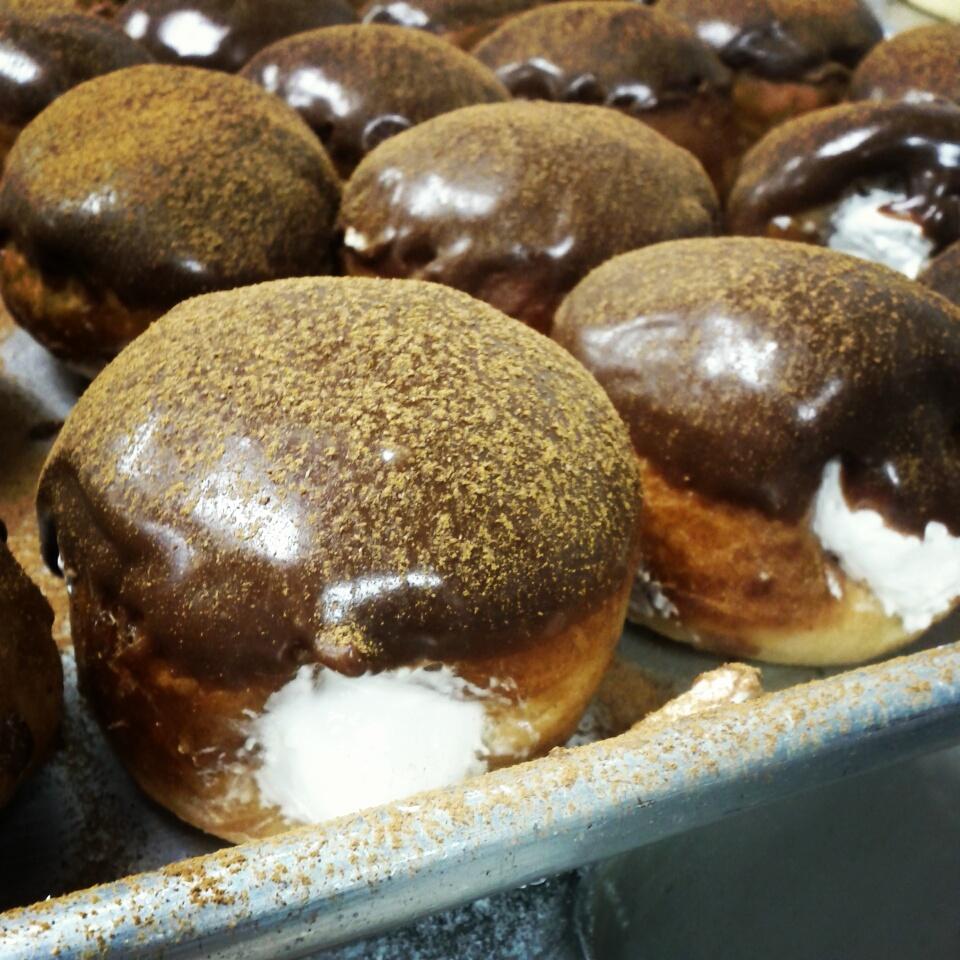 Let's be honest — I loved them the first time I ate them and have been dreaming about them ever since. We bought four and had them packed to go. Donuts are about $2 each, and this week we picked up:
Apple Cider Donut: Buttermilk apple cake donut dusted in cinnamon sugar.
Cranberry Vanilla Bean: Cranberry cake donut with vanilla bean glaze.
Cranberry White Chocolate: Cake donut with a white chocolate icing and studded with cranberries.
Hot Cocoa Donut: Fluffy yeast donut filled with house-made marshmallow cream and coated in a delicious dark chocolate ganache. It was sprinkled with a spicy cocoa (literally had heat, perhaps a Mexican cocoa?), and I may have detected a hint of liquor in the ganache as well.
They did not disappoint, although I think I preferred the last outing's flavors…
On our trajectory out of the market we passed the truck for 2012 newcomer Porchetta, and a salty counterpoint to our sweet breakfast was in order.
We both bought $4 porchetta + egg breakfast sandwich, which was a revelation on a biscuit. Smaller than other breakfast biscuits (local favorites: Sunrise Biscuit Kitchen, Time Out, Neal's Deli), it still packed an incredible amount of balanced flavor, just salty enough to get your tastebuds going without being over the top. The shaved porchetta ("Italian pulled pork": a roasted pork loin, wrapped in pork belly and stuffed with herbs and spices) was tender and juicy, flavored with herbs without overwhelming the delicious taste of the natural, North Carolina pork. The biscuit was light, fluffy, and nicely browned, and the egg tender and fried in grease. I meant to take a picture showing the internal composition of the sandwich but accidentally finished it. Sorry…?
All in all, if you haven't made a jaunt to the DFM, remember it's not just for people who love to cook with heirloom veggies — it's great if you can roll out of bed before noon and pick up an easy, delicious brunch (just note that Monuts is usually sold out before 10am).
The produce is 100% local, and everything is produced within 70 miles of Durham. Parking is relatively easy and convenient (there is a large lot by Hunt Street if you want to avoid street parking), and the whole experience is kid-friendly (although the Market itself is not pet-friendly, due to health regulations). 🙂
Durham Farmer's Market
The Pavillion, 501 Foster Street
Saturdays
April to November: 8am to Noon
December to March:10am to Noon
Wednesdays
May to September: 3:30pm to 6:30pm